A modo de chuleta, una vez más, os pongo los pasos necesarios para trabajar con Eclipse, EGit y PyDev.
1. Instalar Eclipse Classic.
2. Iniciar Eclipse, y deberías ver una pantalla similar a:

3. Instalar PyDev desde Eclipse. Para ello, en la pantalla anterior, pulsa sobre la flecha de la derecha. Aparecerá una pantalla de este tipo:

A continuación ve al menú Help -> Install new software.

Selecciona "Add" y añade la siguiente URL en el campo "Location":
http://pydev.org/updates
Selecciona la opción "PyDev for Eclipse". No selecciones la opción "PyDev Mylyn Integration". Solo queda pulsar "siguiente, siguiente, siguiente" y reiniciar eclipse.
4. Configurar PyDev desde Eclipse:
Ve al menú "window -> preferences", expande "PyDev" y selecciona "Python Interpreter". Deberías ver algo asi:

Debes añadir un nuevo intérprete, indicando la ruta donde tienes instalado python:
Selecciona todos MENOS el PySrc y python31.zip. Pulsa ok tantas veces como sea necesario y termina el proceso. Ya estás listo para programar en python usando eclipse.
5. Instalar EGit desde Eclipse
El proceso para instalar egit es muy similar al descrito en el paso 3, simplemente usa la siguiente url en el campo "location":
http://download.eclipse.org/egit/updates
6. Escribiendo tu primer programa python:
Ve al menú "Window > Open Perspective > Other…" y elige "Pydev", entonces haz click en 'ok'. Si te fijas en la esquina superior derecha verás que la perspectiva ha cambiado de "java" a "pydev"

7. Creando un proyecto nuevo:
Ve a "File > New > Pydev Project" para empezar un asistente.
En la siguiente pantalla, introduce el nombre del proyecto y selecciona como tipo "python 3.0″. Asegúrate de que las opciones "create default 'src' folder" y "add it to the pythonpath?" están seleccionadas. Haz click en Finish.

8. Creando un módulo nuevo:
"File → New → Pydev Module"

Si miras en el "Package Explorer" verás un icono con tu nuevo fichero dentro de la carpeta 'src' (carpeta que creó Eclipse cuando hiciste el proyecto en el paso anterior).

9. Ejecución de tu primer programa:
Vamos a hacer un "hello world" en python. Para ello simplemente escribe print('Hello, World!') en tu fichero. Guárdalo (ctrl+S) y para ejecutarlo, simplemente ve a "run as > python run":

10. Añadir tus ficheros a repositorio GIT:
Seleccionado el proyecto que deseamos añadir, pulsamos botón derecho y "Team -> Share Project"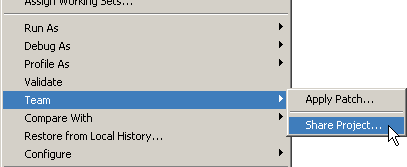 Marcamos la opción GIT y pulsamos "next":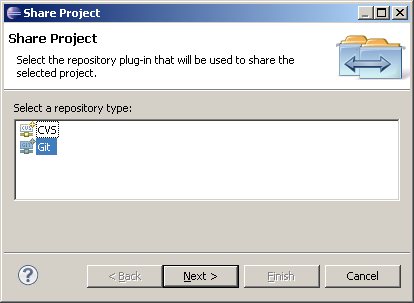 Seleccionamos el proyecto a añadir y pulsamos Create para crear el nuevo repositorio GIT: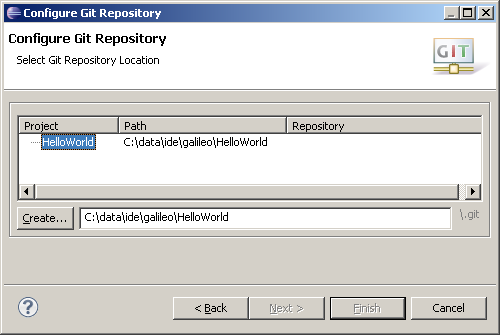 A continuación pulsamos "Finish":

El proyecto está marcado ahora con el texto "[MASTER]", que indica que los ficheros pertenecen a la rama principal del repositorio GIT. Los interrogantes al lado de algunos archivos (en la imagen los archivos .classpath y .project) indican que esos archivos no pertecen aun al repositorio git: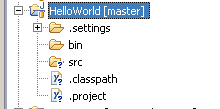 Para hacer que pertenezcan (y se cambie el interrogante por un signo "+") debemos trackear el proyecto. Para ello seleccionamos el proyecto, botón derecho, "Team > Track"

Es muy probable que tengamos ficheros que NO deseemos que se añadan al track. Para ello creamos un fichero llamado .gitignore e introducimos aquéllos ficheros que NO deseamos que pertenezcan. Imaginemos que todos ellos estan en una carpeta llamada ignoredfolder. Pues en el fichero .gitignore escribiremos ignoredfolder. A continuación añadimos .gitignore al control de versiones.
Podemos añadir exclusiones más generales (por ejemplo si nuestra configuración de una BD, nombres de usuarios y passwords estan en un fichero llamado .settings en todos nuestros proyectos, o queremos excluir todos los ficheros .zip) podemos utilizar el menu: Preferences > Team > IgnoredResources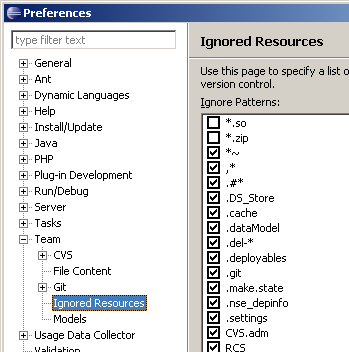 Ahora debemos hacer un commit de los cambios. Para ello Team > Commit: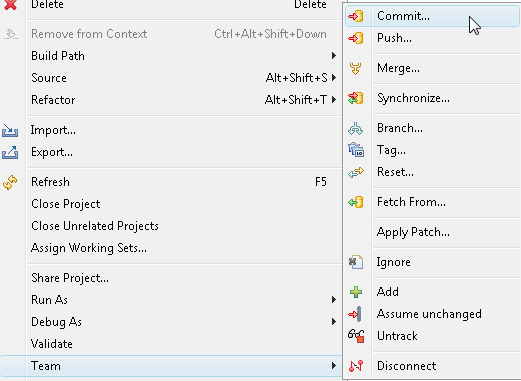 Debes insertar un mensajes explicando tus cambios. La primera linea (separada por una linea en blanco) se convertirá en el "short log" para este commit. Por defecto el autor y el committer se cogen del fichero .gitconfig de tu directorio home del proyecto. Puedes, además, marcar "Add Signed-off-by" para añadir un tag Signed-off-by. Al enviar cambios de otros autores puede ser conveniente alterar el campo autor para insertar los datos de nombre y mail del autor. Pulsa commit para enviar los cambios.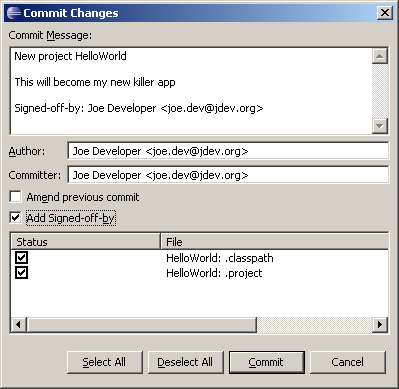 Ahora han cambiado los "+" que aparecían al lado de los archivos por otro icono: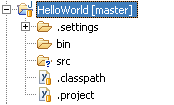 Para mostrar el HISTORIAL de un fichero, puedes pulsar botón derecho y luego "Team > Show Local History":


Esto es lo básico. Podéis leer mucho más en los enlaces de abajo
___________
Más información sobre pydev y eclipse (en inglés) en http://www.rose-hulman.edu/class/csse/resources/Eclipse/eclipse-python-configuration.htm.
Más información sobre egit para eclipse (en inglés) en http://wiki.eclipse.org/EGit